Click to listen to Premal Shah, Kiva's president, discuss the creation of online giving markets and how the power of online communities can strengthen the world of microcredit.
Click to listen to GlobalGiving's president, Mari Kuraishi, interview Randy Komisar, a partner at Kleiner Perkins Caufield & Byers and one of Silicon Valley's top venture capitalists and entrepreneurs. In the interview, Komisar discusses why he was inspired to lead GlobalGiving in its early years, why online giving markets are an important social innovation, and how Kleiner Perkins has become one of the biggest investors in green energy startups.
Eric Nee, SSIR's managing editor, welcomes a standing-room-only crowd to Online Giving Marketplaces: Changing the Face of Philanthropy.
This sell-out event attracted more than 275 attendees from all over the world.
Members of the audience engaged in thought-provoking dialogue throughout the day.
One of the highlights of the conference was a Demo where attendees could meet with representatives of 16 online giving marketplaces and view their Web sites.
The Demo was open during breaks and at lunch.
Conference attendees enjoyed lunch in the France C. Arrillaga Alumni Center's beautiful Ford Gardens.
After lunch, William F. Meehan III, director at McKinsey & Company and lecturer at Stanford Graduate School of Business, gave an inspiring talk entitled Making Markets Work.
Members of the audience learned valuable tools to take back to their own organizations.
Later in the afternoon, Gabriel Kasper, consultant at the Monitor Institute, moderated a panel entitled Online Giving Markets: Niche or Revolution?. Pictured panelists (left to right): Jacob Harold, program officer, philanthropy, at The William and Flora Hewlett Foundation; Mari Kuraishi, cofounder and president of GlobalGiving; Brita Lombardi, executive vice president for strategic development at DonorsChoose.org. Not pictured: Jay Backstrand, vice president and banker at JPMorgan Private Bank, and cofounder and board member of VolunteerMatch; Matt Halprin, partner at Omidyar Network.
Peter deCourcy Hero, former president of the Community Foundation Silicon Valley and visiting fellow at the Center for Social Innovation at the Stanford Graduate School of Business (starting January 2009), closed the day's sessions with an inspiring lesson entitled Innovations in Philanthropy.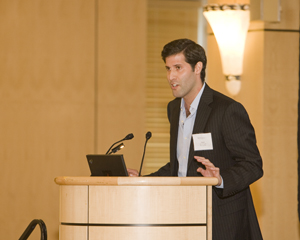 Lloyd Nimetz, cofounder and president of HelpArgentina, wrapped up the conference by showing a short video entitled One Click at a Time: Changing the Face of Philanthropy.