"A crisis is a terrible thing to waste," as Paul Romer, Stanford economist, once said . Sadly, we may be wasting this one.
To take just one data point, under the best likely scenario, it may take 5 years to get employment back to pre-crash levels.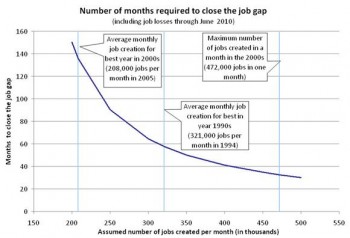 To take another data point, consider the table and then ask whether we should extend unemployment benefits:
There should be no doubt that this is a crisis, no matter what you want to call it - "Great Recession", "Great Reset", or "Second Great Depression". Our hair should be on fire, as UC Berkeley economist Brad DeLong has noted, yet it is odd how quiet things seem. Aside from the Tea Party cacophony, there don't seem to be the expected visible signs of panic.
This leads me to wonder, where will employment growth come from, and how will the nonprofit sector affect, and be affected by, these trends?
In "Offshoring: The Next Industrial Revolution?", an influential Foreign Affairs article in 2006, Alan Blinder argues that globalization and the impending offshoring of millions of jobs is posing a "Third Industrial Revolution." The new wave of offshoring is hitting high-skill professional services that previously have been insulated—not just software programming, of course, but also accounting, law, and virtually any kind of data entry or analysis (X-rays, for example, can now be read by specialists in India). This disruption will be massive, but can be managed, in Blinder's view, so long as we recognize that the critical divide no longer will be between the traditional categories of "skilled" and "unskilled" labor, but between work that can be done at a distance ("impersonal services"), and work that must be done interpersonally ("personal services"), such as family law, child care, or nursing.
So, not only may many of the jobs that we have lost never come back, in seeking to spur job growth, focusing on jobs that are difficult to offshore will be critical.
Richard Florida, in an Atlantic Monthly article titled "How the Crash Will Reshape America" and in a new book The Great Reset, foresees that future economic and job growth will be concentrated in mega-regions that have a confluence of strong technology and infrastructure, talented, highly educated and creative people, and tolerance. Florida thinks the Great Reset will be even more disruptive than was the Great Depression. "We are living through an even more powerful and fundamental economic shift, from an industrial system to an economy that is increasingly powered by knowledge, creativity, and ideas." "Unemployment is ungodly high for blue-collar people and construction workers and more modest for people who work in professional jobs, technical jobs, creative jobs, or people who have a college degree."
All of these impacts and reactions to globalization may make working for the public good even more central to our society and our economy. While not immune to offshoring, most of the services provided by nonprofit workers—such as teaching, health services, counseling, advocacy—cannot be provided over a wire. Furthermore, these are precisely the areas in which greater investment likely will be required to make workers in America more competitive.
So where might the jobs we need come from?
It doesn't seem like the market, on its own, is going to generate the job growth we need.
Last year's stimulus bill prevented things from being much worse, but its impact is beginning to wane, and the prospects for further fiscal stimulus are very dim. Because most states are required by law to balance their budgets, in recessions they find that they must cut services and support, just at the time that both rising need, and economic theory, should lead them to increase spending. That's why some economists characterize them as "50 little Herbert Hoovers," a reference to President Hoover's austerity approach that inadvertently made the Great Depression longer and deeper.
The magnitude of the harm that will be done is so staggering, it should make clear that much of what preoccupies so many of us in the nonprofit field – social enterprise, data sharing, all the various forms of "(fill in the blank) philanthropy"—is just tinkering at the margins.
The trends Blinder and Florida outline indicate that employment in public benefit enterprises should grow, in my view, but that doesn't mean it will. What things might the nonprofit sector push for that might help?
One good thing we could do would be forgive student loans for people moving into community service. Better still, perhaps we can develop an ROTC-style program to commit to pay tuition for students committing to public service.
We also might look at some period of mandatory national service. Young people will be better off delaying graduation until the jobs picture improves anyway—research shows that graduates coming into a depressed job market suffer diminished earning power as much as 15 years later.
We also need to provide incentives and support for older adults to move to the encore careers that seemed a prime pathway before the crash. There is talent and energy that we could be using, very affordably, to improve health care, child care, education, and a host of worthy goals.
Finally, it also seems like time for a massive jobs program in community service, along the lines of the Works Progress Administration and Civilian Conservation Corps from the 1930s.
Strategies like these would have measurable economic stimulus and anti-poverty effects, and they could be just as helpful as other strategies for the "helicopter drops of money" currently being considered by economists.
An increasing federal deficit is a very real problem, and programs like these would contribute to the deficit. However, in the current environment, when the federal government can essentially borrow at zero interest and there is such great need, forsaking the employment and community benefits—and the economic growth—that they would bring does not seem smart.
The indirect effects of such a campaign may be even more valuable. We went through the 9/11 crisis without really developing a sense of shared sacrifice and commitment (instead, we were encouraged to go shopping). We are limping through the current crisis again without a strong sense that we are all in it together. (What benefits might we see over time if everyone spent their 19th year working side-by-side with people from very different socio-economic and cultural backgrounds?)
For all these reasons, foundation and nonprofit leaders should be paying attention to how to increase employment in the sector as they have done to preserving the full deductibility of donations at the highest tax brackets, or to goals like the National and Community Solutions Act (HR 5533.IH), sponsored by Rep. Betty McCollum (MN -4).
What other things might nonprofit advocates and funders push that could help get people employed in improving their communities?