This post is part of a special report on social innovation from What Matters, McKinsey & Company's journal of ideas, in which innovators from around the world share their strategies.
Analysts predict that by 2012, there will be more than 6 billion mobile phone connections worldwide, with developing markets driving the growth; by 2015, Africa alone will have 265 million mobile phone subscribers. The mobile phone started as a tool for the elite. Within a decade, it morphed into a household item and became one of the most powerful weapons in the fight against poverty. In Africa, mobile phone penetration has reached 52 percent—almost equivalent to one phone per adult—and the region is experiencing the fastest growth in the world. At the same time, access to basic financial services remains a major constraint to economic growth and poverty reduction. Only 20 percent of people in developing countries can access some form of financial services. Imagine if everyone who had a cell phone could also have access to financial services, and was able to save and send money safely, no matter where they were located.
That vision has become a reality in Kenya, and other emerging economies will soon follow. In 2007, Safaricom, Kenya's leading mobile phone operator, launched M-Pesa (m for "mobile" and pesa, the Swahili word for "money"), which has become the world's leading example of mobile money. Mobile money, which allows cash to travel as fast as a text message, is not an extension of banking. It is a new form of banking, just as cell phones are a new form of telecommunication rather than an extension of landlines. Unlike mobile banking, mobile money does not necessarily need a banking infrastructure.
Kenya now has 25.3 million mobile subscribers, which is more than the total adult population, and 17.3 million registered mobile money users, more than 14 million of which are M-Pesa customers. M-Pesa conducts an estimated US $ 650 million per month in transactions, and according to World Bank and Safaricom projections, M-Pesa moved more than US $7 billion in 2010 and could reach up to US $10 billion in 2011.
Today, there are 30 million to 35 million mobile money users in the world, which means that every second person who sends money over a cell phone is a Kenyan. Mobile money is the rare case in which a poor African country is the world market leader and an exporter of innovation.
In Kenya, mobile money was the game changer in bringing financial services to the middle class and the poor. In 2006, before the advent of mobile money, only 20 percent of Kenyan adults had access to financial services. By the end of 2010, three years after the introduction of mobile money, that share had jumped to 75 percent (see figure below).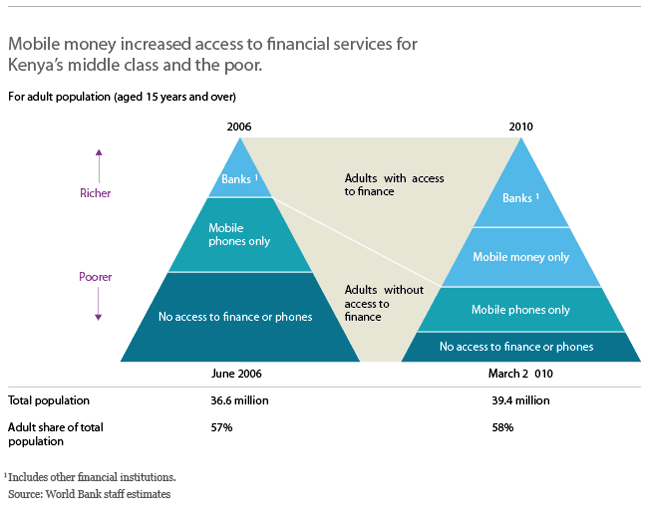 According to a recent World Bank study, mobile money expanded differently than initially expected. M-Pesa was intended to be a product for sending money home, for connecting the "middle of the pyramid," which included many workers in Kenya's cities, with their relatives in rural areas. In reality, mobile money was initially used by the wealthier groups of Kenya, especially in urban areas, but then spread rapidly into the middle and the bottom of the wealth pyramid. The clearest and most direct benefits of mobile money are greater convenience, far greater speed, and generally lower cost of transferring funds. In Kenya, mobile money enables traders and small businesses to reach wider markets thanks to its accessibility (there are currently 32,000 M-Pesa agents spread across Kenya), low cost, security, and convenience. M-Pesa has also empowered Kenyan women, giving them an independent place to store and manage funds. In addition, mobile money has improved personal security because thieves have learned that few people now carry large amounts of cash; most local businesses and street vendors convert their cash to M-Pesa at the end of the day for safekeeping.
Can mobile money work outside Kenya?
As a relatively poor country with a problematic governance environment, Kenya is an unlikely leader in the mobile money revolution. Many wonder why no other country has successfully replicated a mobile money system (with Philippines being the only partial success). Three main reasons explain why M-Pesa has worked well in Kenya.
First, Kenya had a large mobile money access gap. Almost everyone had a phone, but only a few Kenyans had a bank account in 2007. Kenya also had a high percentage of families living in different parts of the country, which fueled the demand for domestic transfers. In addition, the alternatives for sending and receiving money were unreliable and prone to leakage (sending via bus drivers and friends) or expensive (using money transfer services or the Kenyan Post Office).
Second, M-Pesa was conceived as a way to build a brand, not make money. It was part of Safaricom's long-term strategy to retain its position as the dominant mobile operator in Kenya. There was an early understanding at senior management level that M-Pesa could not be an add-on product for just one segment of customers. There was 100 percent support to M-Pesa at the highest level of management and without this commitment it would have not happened. To be successful, it had to be rolled out at scale using Safaricom's vast and expanding network of agents. Today, M-Pesa has reached a critical mass, with a huge network of both agents and users, which reinforces customer loyalty and reduces churn.
Third, Kenyan regulators took the objective of financial inclusion to heart and allowed regulation to follow innovation. M-Pesa developed outside traditional banking regulations. This approach permitted the growth of innovation with minimal barriers to entry. Today, mobile money makes it easier for the Central Bank of Kenya to manage the money supply and the economy because the bank can now monitor money that used to be kept under the mattress. The Central Bank credits mobile money as a driving force for the declining velocity of Kenya's currency.
How mobile money can change the world
Mobile money can change the world the way cell phones have already changed lives in most emerging economies. Mobile money has achieved what decade-long experiments with microsavings have failed to achieve: rapid financial inclusion for large parts of the population in poor countries. The difference is a low-cost transaction platform, which M-Pesa can provide. As with other innovations, succeeding replication will be easier and could also result in variations of the original model. In 2012, we may likely see a global tipping point for mobile money as many countries are introducing it.
Mobile money presents an unparalleled opportunity to deliver a basic suite of modern financial services to the "unbanked" millions across the world. The World Bank predicts that by 2020, mobile money could impact the lives of some 2 billion people in developing countries, heralding a new era of financial services where banking will no longer be the privilege of a small upper class. The mobile revolution, which has already reached millions of the poor, may well be the vehicle that that helps lifts them out of poverty as new and affordable financial products are rolled out in the next phase of development.