This has been a difficult few years for Mexico's international reputation. The disappearance of 43 students in Iguala, the brazen escape of Sinaloa drug cartel kingpin Joaquin "El Chapo" Guzman from federal prison, and ongoing corruption scandals at all levels of government have contributed to a perception that Mexico is deeply troubled and may in fact be out of control.
That's probably a good summary of what an informed international citizen who reads the newspaper might think, but do the facts match the perception? And equally importantly, do Mexicans who are trying to make positive change in their country share these negative perceptions? Are they on the brink of throwing their hands up in despair, or do they feel more optimistic than one might expect?
Our organization, the Institute for Economics and Peace (IEP), has spent the last few years trying to answer those questions. We did so (and we continue to do research in this area) in the hope that we can help those in Mexico—and in other countries that are struggling with similar problems—learn more about what it takes to create peace and, equally importantly, track whether they are making progress.
In 2013, for example, we developed the Mexico Peace Index. This is a comprehensive look across Mexico's 32 states at the dynamics of peace—the factors that enable a peaceful environment, such as good governance, low levels of corruption and good relations with neighbors—and their effect on the number of assaults, homicides, and other crimes. We released a second edition of the Mexico Peace Index in March 2015 and will follow up with at least two more editions in 2016 and 2017.
More recently, we interviewed 12 leading Mexican peacemakers about their views on the challenges and opportunities facing the country. We have published those interviews in a paper entitled, "Radical Realism: Positive Peace in Mexico."
Our interviewees were surprisingly upbeat about the country's future. This was perhaps our most striking finding. It's true that they were blunt about the challenges Mexico faces. (As Juan Pardinas, the director of the Mexico Institute for Competitiveness, noted, "I don't think there is a problem in the country which is not touched, impaired or increased by the issue of corruption.") Nonetheless, most of them were confident in the country's future prospects.
"I would say my optimism is about 70 percent, which is very high considering the situation," said Libertad Zavala, coordinator of Barrios Amables (Kind Neighborhoods) in the municipality of Zapopan.
That optimism extends even to direct victims of violence such as Adrian Lopez, the director of the newspaper Noroeste Culiacan in Sinaloa, a state that has struggled with gang-related drug violence (Lopez was shot in an assault). "My optimistic viewpoint tells me that we are not the same Mexico," Lopez told us. "We are approaching a new level of public discussion ... through new technologies and social networks."
Our interviews also revealed two important, common views of what it will take to achieve peace:
Expansive thinking and a preventative approach are critical. Most interviewees said that Mexico must advance more than a narrow-minded security agenda if it is to become more peaceful. This has become painfully clear, they told us, noting that the dominant strategy of the last decade (seeking the capture and arrest of leaders of major drug gang organizations) has led to mixed results at best. "When I first approached the issue of security, the talk was about guns, vests and patrols," said Eduardo Bohórquez, the director of Mexico's office of Transparency International. "Then we realized that there was a need to develop prevention strategies. There are many things that can be done that have nothing to do with crime and violence but that can generate secure environments."
"Positive peace," as we define it at IEP, is not just the absence of violence, but also the presence of other factors that help societies realize their full potential. "We cannot talk about peace if we have no justice," said Consuelo Bañuelos, the Director of Promoting Peace, an initiative that works in poor neighborhoods and prisons in the northern state of Nuevo León. "By justice I mean access to education, health services and housing, so that a person can fully develop as a human being." (The chart below summarizes eight positive peace factors derived from IEP's extensive empirical analysis.)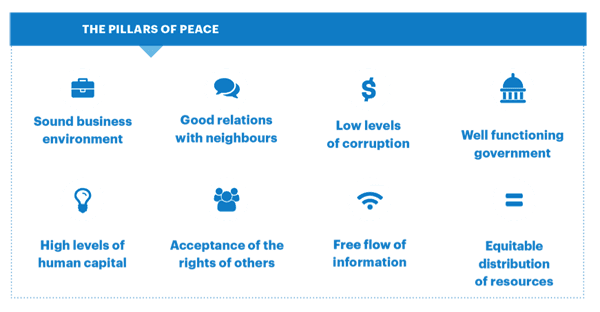 Miguel Sarre, a professor and researcher at the Autonomous Technological Institute of Mexico, expressed a similar view, saying that "the biggest problem (in Mexico) is relating the issue of security to the importance of due process of justice. The violation of human rights increases a person's level of violence, and it comes back to haunt the rest of society."
Government needs to play a strong role in promoting peace. It may seem obvious, but it bears repeating that in a country with such widespread (and understandable) public distrust of government, the public sector still has a positive role to play. For example, three of the 12 peacemakers we interviewed currently work in government, and a fourth recently left a government post. Our report documents several significant examples of government innovation in Mexico. This includes Gabrielle Gomez-Mont, who started the Laboratory of the City in Mexico City to increase citizen participation in government, Perla Castro's work to improve human rights and gender justice as Campeche's Government Undersecretary, and Gerardo Palacios's successful efforts to build a police training academy in Nuevo Leon that is now seen as a national model.
There are no easy answers to Mexico's most pressing challenges, but our interviewees provide a modest counterweight to the drumbeat of negative publicity that the country has received. While it's difficult to predict whether Mexico can put itself on a more peaceful trajectory, perhaps the best last words on the subject come from Alberto Serdán Rosales, associated professor at the Center for Research and Training in Economics. "If we want a better country, a better society we must first imagine it, and if you can imagine it then you can be creative in building what you have imagined."