A conference dedicated to promoting information regarding social entrepreneurship, and to providing the resources to get involved.
A photo gallery of the third annual Social Entrepreneurship Day panel on the Stanford University campus.

More than 200 people gathered at this standing-room-only event, which featured a lively discussion on ways to start and grow a social enterprise.
Click here to hear an audio recording of the panel discission, moderated by Regina Starr Ridley, SSIR's publishing director.
On Sunday, February 22, Regina Ridley, publishing director of the Stanford Social Innovation Review, moderated a lively panel discussion with local social entrepreneurs at an event sponsored by the Center for Social Innovation. Panelists included (from left to right) Chuck Slaughter, founder and president of LivingGoods; Morgan Simon, cofounder and executive director of the Responsible Endowments Coalition; and Jane Leu, founder and executive director of Upwardly Global.
The standing-room-only event was held on Stanford's campus. Here, members of the audience read the latest issue of the Stanford Social Innovation Review.
The crowd listens as these social entrepreneurs tell their stories.
Jane Leu discusses the start and evolution of her nonprofit, Upwardly Global.
Chuck Slaughter, founder of LivingGoods, talks about the nonprofit's growth.
The Social Entrepreneurship Day panel was put on by the Stanford Social Innovation Review.
The latest issue of the award-winning Stanford Social Innovation Review was available at the event.
Social Entrepreneurship Day 2009 was part of the third annual Entrepreneurship Week at Stanford University.
E-week lasted from February 18-25 and was hosted by the Stanford Entrepreneurship Network (SEN), a federation of entrepreneurship-related organizations across Stanford University, and sponsored by Deloitte.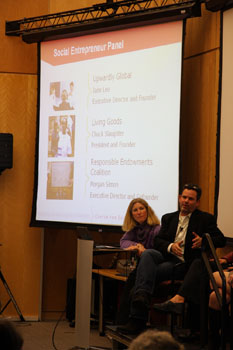 Regina Ridley closes by asking each of the panelists their opinions on the economy's effect on new social ventures.
The audience spills into an adjoining room.
After the event, enthusiastic audience members stay to ask questions of the panelists. Here, Regina Ridley engages two students in a discussion on social innovation.