A collection of some of Stanford Social Innovation Review's most popular book reviews and excerpts published in 2018.
In Winners Take All: The Elite Charade of Changing the World, Anand Giridharadas condemns the mindset of philanthropists who seek to create social good while retaining their own power and privilege. In his review, FSG's cofounder and managing director, Mark Kramer, reflects on his own life's work in light of Giridharadas' criticism. What would it look like for "winners" to act ethically, and what are the limitations of such an approach?
Given the choice, all organizations would favor dedicating resources to amplifying their impact over mere survival. Stanford lecturer Kathleen Kelly Janus asks more than 100 social entrepreneurs, academics, and philanthropists across the country about the key to nonprofits' triumphs, summarizing her observations in Social Startup Success. If you've ever wondered how your organization might incorporate an earned-income strategy to scale up its efforts, read this excerpt from Janus' book.
Big businesses are especially well poised to usher in sustainable development at scale. In All In, David Grayson, Chris Coulter, and Mark Lee argue that social sector leaders should work closely with global companies to achieve the United Nation's Sustainable Development Goals by 2030. In this excerpt, the authors explore the attributes of sustainable leadership that can make this happen.
In Equality for Women = Prosperity for All, Augusto Lopez-Claros and Bahiyyih Nakhjavani explore the many economic and social implications of global gender inequality, arguing that it's not just a moral failing but also a waste of resources. In her review, Alyson Colón, associate director at the Institute for Gender and the Economy at the University of Toronto's Rotman School of Management, calls it "an ideal book for policymakers who need to understand the broader picture of gender inequality and its impact."
The American nonprofit sector is constantly evolving in response to social, cultural, and political shifts. In this excerpt from his book Braided Threads, Robert Penna, who has served as an outcomes and performance consultant to the United Nations, Charity Navigator, and the World Scout Bureau, traces how the historical shift from charity to philanthropy took place. Reflecting on the origins of our modern understanding of philanthropy can help us more intentionally define the role of civil society today and in the future, he writes.
Conditional cash transfers are lauded by many as an effective tool for facilitating development. But through her ethnographic fieldwork, Tara Patricia Cookson demonstrates how these cash payments impose unfair burdens on women and often become "a coercive exercise of authority." Cookson, director of the feminist research consultancy Ladysmith, explores these ideas in Unjust Conditions: Women's Work and the Hidden Cost of Cash Transfer Programs. In this excerpt, she sheds light on the overlooked consequences of paternalistic aid programs.
In Silicon City, writer, filmmaker, lawyer, and rights advocate Cary McClellan interviews people who are adapting to and driving transformation in the San Francisco Bay Area. In this excerpt, he profiles Saad Khan, an investor and entrepreneur who has made it his mission to connect technology to the "bigger world."
Kansas has become synonymous with social conservatism in the national conversation. But as C.J. Janovy shows in No Place Like Home: Lessons from Activism in LGBT Kansas, there are many LGBT Kansans who want equal rights yet love their home state. In her review, Sarah Kaplan, director of the Institute for Gender and the Economy at the University of Toronto's Rotman School of Management, synthesizes the main takeaways from activists' efforts to make communities in Kansas more inclusive and just.
Ten years after the publication of Money Well Spent, Paul Brest and Hal Harvey have released a second edition. In this update, Brest, the former William and Flora Hewlett Foundation president, and Harvey, a seasoned Hewlett grantmaker and environmental advocate, reconsider strategic philanthropy in the face of complaints that it rarely takes seriously the insights of the community members it seeks to support. The philanthropy advisor Katherine Fulton calls this new version an "indispensable addition" to philanthropic knowledge.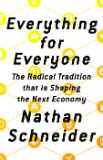 What is the cooperative movement, and how might it introduce radical change to the American economy? In Everything for Everyone: The Radical Tradition That Is Shaping the Next Economy, the journalist and media studies professor Nathan Schneider envisions a platform cooperative in the digital age that will democratize ownership and governance. But for reviewer Gar Alperovitz, cofounder of The Democracy Collaborative, Schneider falls short on answering the provocative cultural questions raised by the cooperative model.